Developed in a joint venture with Wai Eco World Developer (WEWD) and operated by Ennismore, this new fashion-led, all-villa resort forms part of the Indian Ocean's first fully integrated leisure destination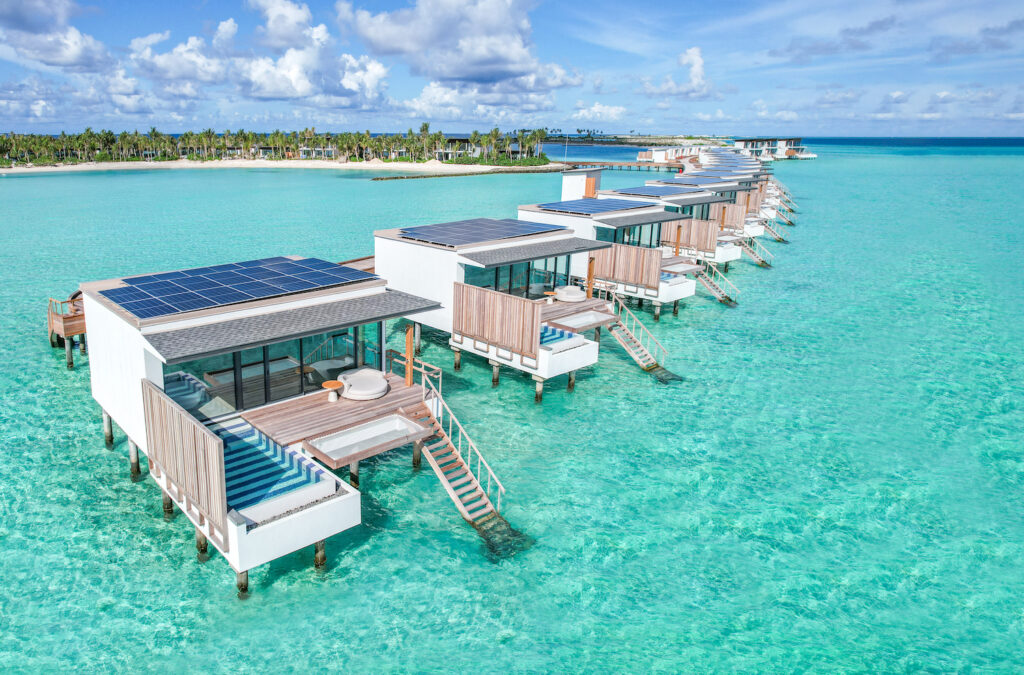 SO/ Maldives, the third resort at CROSSROADS Maldives, offers a collection of spectacular over-water pool villas, all featuring rooftop solar panels, to supply clean, green energy to the resort
BANGKOK, THAILAND: S Hotels and Resorts PCL, the global hospitality company from Singha Estate PCL, has announced the launch of SO/ Maldives, which becomes the third iconic resort at CROSSROADS Maldives. Opening its doors on 1st November 2023, this luxury lifestyle resort will complement the two popular five-star retreats and world-class facilities at the Indian Ocean's first and only multi-brand, fully integrated leisure destination, ushering in an exciting new era of hospitality to the Maldives.
SO/ Maldives is a USD 60 million joint venture project developed in partnership with Wai Eco World Developer (WEWD), the leading business and real estate conglomerate. The resort is operated by Ennismore, a creative hospitality company with a global collective of entrepreneurial and founder-built brands with purpose at their heart.
SO/ Maldives joins two existing resorts at CROSSROADS Maldives: SAii Lagoon Maldives, Curio Collection by Hilton and Hard Rock Hotel Maldives. Nestled in the Kaafu Atoll and Emboodhoo Lagoon, this diverse trio of retreats is seamlessly connected to a wealth of world-class facilities at The Marina @ CROSSROADS, an 800-metre lifestyle area and beach walk lined with restaurants, bars, retail boutiques, wellness centres, water sports, diving and snorkelling, kids' clubs, and a 30-berth yacht marina, plus the Maldives Discovery Centre cultural hub and Marine Discovery Centre, which is dedicated to underwater conservation and education. With three iconic branded resorts all connected with world-class facilities, this fully integrated luxury destination is truly unique in the Maldives, and the broader Indian Ocean region. CROSSROADS Maldives has already won multiple major awards and has achieved Green Globe™ Certification. The development's focus on environmental preservation and sustainability is also reflected at SO/ Maldives, where the roofs of the over-water villas and restaurants are topped with solar panels, allowing the resort to generate its own green energy. Recycled water, electric vehicles, eco-friendly bathroom amenities, and locally-sourced products are used throughout the property, and the resort has eliminated all single-use plastics.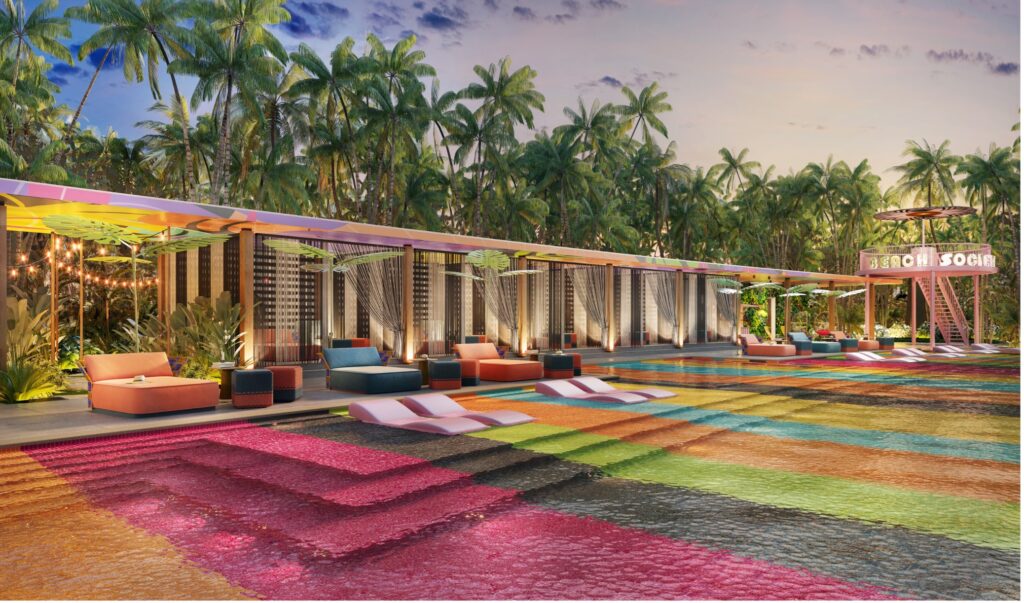 The colourful Beach Club at SO/ Maldives will stage uplifting parties and stylish social events
Mr. Dirk De Cuyper, CEO, S Hotels & Resorts, said: "We are delighted to announce the opening of our third world-class lifestyle resort at CROSSROADS Maldives. With its focus on art, design and fashion, SO/ Maldives will perfectly complement our two internationally branded resorts and extensive facilities at The Marina @ CROSSROADS and enable us to attract a new generation of global explorers. We would like to thank our esteemed partners for their vision and skill in creating this stunning resort."
Mr. Zaw Win Maung, Managing Director, WEWD, commented: "It is a wonderful moment to see this beautiful project come to life. SO/ Maldives is a trend-setting luxury resort that will attract a new generation of lifestyle-conscious guests, enhancing the Maldives' tourism sector. We are delighted to collaborate with our esteemed partners at S Hotels & Resorts to create a lasting legacy for the entire country."
"SO/ Hotels are located in some of the world's most sought-after destinations, and we are thrilled to put down roots on this paradisiacal private island in the Maldives," shared Mr. Jesper Sorensen, General Manager, SO/ Maldives. "In keeping with the SO/ DNA, we're eager to welcome global travellers looking for a different island experience where art and fashion meet luxury hospitality."
Part of the ultra-fashionable SO/ Hotels & Resorts brand, which is making its debut the Maldives, SO/ Maldives is set to become one of the world's most sought-after places to stay, play and party. With opening rates starting from USD 950+++ per night, this opening is expected to drive more revenue to CROSSROADS Maldives during the upcoming high season.
Nestled on a pristine private island, surrounded by the turquoise Emboodhoo Lagoon, SO/ Maldives is a sartorially-rooted retreat "Where Castaway Meets Runway." Discerning travellers are welcomed into a glistening glass pavilion with 360-degree views and will be invited to take a walk across the Runway, a conceptualised open-to-sky catwalk which immerses every visitor in their own fashion show. A collection of beachfront and over-water pool villas, ranging from 120 to 330 square metres, are crafted by renowned designers and envelop guests in style and sophistication. The Dream Family Beach Villas feature private capsules for kids and the stunning two-level, three-bedroom Ocean Water Pool Villa Atelier sets the stage for life's most memorable moments.
To learn more about SO/ Maldives, please visit so-maldives.com and to discover how CROSSROADS Maldives is elevating hospitality in the Indian Ocean, please visit crossroadsmaldives.com.
For more information about S Hotels & Resorts, please visit www.shotelsresorts.com or follow us on Facebook, Instagram, YouTube or LinkedIn.
ends
About S Hotels and Resorts Public Company Limited
S Hotels and Resort PLC or SHR, a subsidiary of Singha Estate PLC, is a fast-growing holding company that engages in the management and investment of hotels and resorts. In 2023, its performance has been outstanding with its portfolio featuring world-class hotels and resorts in not just Thailand but also beyond. An expert in the upscale hotel and resort management and investments in the most desirable global tourism destinations, SHR develops several lifestyle hotel brands organically and collaborates with some leading hotel/resort brands that have had strong distribution channels. As of 2023, SHR has 38 hotels in its portfolio. Together, these hotels have had 4,552 rooms. Each of them is located in a key tourist destination that attracts tourists from all over the world. Guided by its parent company Singha Estate, SHR enjoys management strengths and pursues Sustainable Diversity Strategy. It thus has a diverse yet balanced investment portfolio, with sustainable growth as the ultimate goal of is operations. Thanks to its environmental focus, the five resorts in Thailand and the Maldives and The Marina @ CROSSROADS have won Green Globe certifications that effectively provide assurances to both investors and guests. To learn more, please visit www.shotelsresorts.com or follow us on Facebook, Instagram, Youtube, or LinkedIn.
About Wai Eco World Developer
Wai Eco World Developer (WEWD) is an investment and development group in Myanmar belonging to Wai Family Group of Companies, which has major focus on gem and jewellery business. With the opening of economy last six years ago, WEWD has rapidly diversified both regionally and locally with the real estate development as its one of the major directions. WEWD proudly paired with SHR in the development of an exciting, and prestige resort in the Island 3 of the Emboodhoo Lagoon as its first major oversea investment. The Company is planning to develop a number of hotels and resorts in major cities and tourist destinations of Myanmar. Opening jewellery shops in some of the major cities of the region soon is part of the Company's portfolio. WEWD is also active in local F&B business. Creating new projects which have never been before in Myanmar is one of the Company's missions.
About SO/ Maldives
SO/ is a coveted collection of hotels, rooted in the world of fashion. Making its stylish debut on the global hotel scene in 2011, SO/ continues to command attention with its avant-garde design and creative approach to the world of luxury. SO/ is renowned for its signature fashion collaborations, having worked with some of the world's most celebrated designers, including Guillaume Henry, Christian Lacroix and Viktor&Rolf to create spaces, uniforms, amenities and experiences that feel sartorial and polished.
SO/ is located in some of the world's most vibrant and sociable destinations, including Berlin, Bangkok, St. Petersburg, Paris, and most recently Uptown Dubai (opened September 2023). Exciting expansion plans will see the brand continue to spread its bold footprint globally, with SO/ Maldives to open in November 2023. SO/ is part of Ennismore, a creative hospitality company rooted in culture and community, with a global collective of entrepreneurial and founder-built brands with purpose at their heart. so-hotels.com
For more information and high-resolution images, contact:
Lalita Somboonsuk (Ta)
Senior Manager - Corporate Marketing Communications
S Hotels & Resorts | Singha Estate PCL
Tel: +66 (0) 2058-9888 ext. 320
E-mail: lalita.s@shotelsresorts.com
Website: www.shotelsresorts.com
Jerome Richard
Delivering Asia Communications
Tel: +66 (0)91 723 1648
E-mail: jr@deliveringasia.com