Created in partnership with Accor and Wai Eco World Developer (WEWD), this exclusive 80-villa beach resort
will become the third property at CROSSROADS Maldives, the Indian Ocean's first and only multi-island integrated lifestyle and leisure complex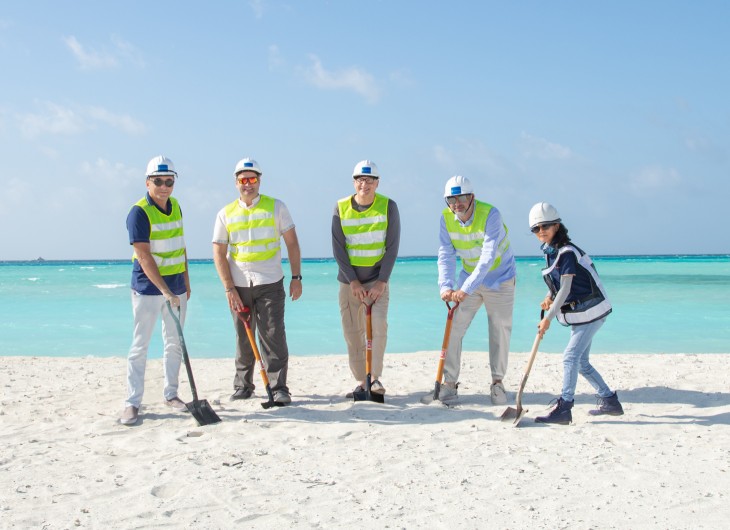 For Immediate Release 24 November 2021
BANGKOK, THAILAND: S Hotels and Resorts Public Company Limited, the flagship hospitality arm of Thailand's Singha Estate PCL, has celebrated the official launch of SO/ Maldives, with a ground-breaking ceremony for this vibrant new beachfront resort on the third island of CROSSROADS Maldives, the Indian Ocean's first fully-integrated leisure and lifestyle destination.
This important milestone was marked with an event attended by senior representatives from S Hotels & Resorts. Set to be opened in 2023, this exciting new project is being created by S Hotels & Resorts, Wai Eco World Developer (WEWD), the leading business and real estate conglomerate in Myanmar, in partnership with Accor, whose luxurious and rebellious SO/ Hotels & Resorts brand will be introduced to the Maldives for the very first time.
SO/ Maldives will offer a unique collection of beachfront and over-water villas crafted by renowned designers, as well as an audacious array of dining and entertainment offerings. Nestled on its own island overlooking the azure Emboodhoo Lagoon, the resort is set to become a hotspot for adventurous and free-spirited socialisers who can easily jet in from regional centres for a weekend or longer, thanks to its convenient location close to Malé's Velana International Airport.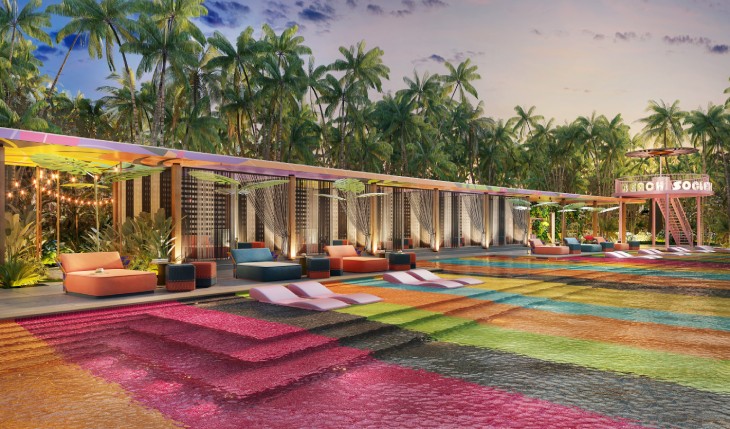 The private island of SO/ Maldives will become a playground for those seeking unconventional yet stylish spaces to eat, drink, work or kick back and relax. The speciality restaurant will serve up Levantine cuisine exuding the aromatic fragrances and flavours of an Arabian night, with panoramic views across the ocean from its location above the arrival pavilion. Over at the poolside, guests will discover an art deco-inspired beach club with serious Miami South Beach vibes and an innovative plant-based menu. The vivid colour scheme is set to make it one of the coolest places to hang out in the archipelago, and is sure to impress those attending the brand's pool parties – a popular event at SO/ addresses across the world.
The resort has ousted the traditional all-day buffet concept and will introduce a central cooking suite with various culinary theatre concepts. A chef's table will be discreetly tucked away for those seeking an exclusive dining experience, while outdoor areas will be blessed with warm and fresh Maldivian air. The pan-Asian design will feature neutral terracotta palettes, elevated with accents of polished brass and rattan. Unforgettable events can be brought to life at the oceanfront wedding venue and meeting spaces.
The globe-trotting guests at SO/ Maldives will also be able to take advantage of the world-class facilities at CROSSROADS Maldives. The Marina @ CROSSROADS is an 800-metre beach walk lined with cool cafés, refined restaurants, a chilled-out beach club, upmarket boutiques, a spa, the Marine Discovery Centre and a 30-berth yacht marina. Just 15 minutes by speedboat from the international airport, this breath-taking integrated resort has redefined tourism and hospitality in the Maldives since it launched in 2019.
"This is a momentous day as we officially launch SO/ Maldives, the latest jewel in the Maldivian tourism crown. With SO/ Hotels & Resorts, Accor has created one of the hotel industry's most expressive and individual luxury brands, catering to style-conscious travellers in some of the world's most sought-after destinations. This makes it a great fit for CROSSROADS Maldives, our game-changing multi-island leisure complex. SO/ Maldives will complement our two other five-star resorts and further raise the standard of hospitality in this idyllic archipelago," said Dirk De Cuyper, Chief Executive Officer, S Hotels & Resorts.
"It gives us great pleasure to join hands with S Hotels & Resorts and Accor as we break ground on such a prestigious project. CROSSROADS Maldives is one of the most significant developments in the history of the country – and the entire Indian Ocean region – so we are honoured to have been tasked with the wonderful transformation of its third island. SO/ Maldives will attract trend-setters from all around the world and I look forward to bringing this remarkable resort to life in the coming months," added Zaw Win Maung, Managing Director, WEWD.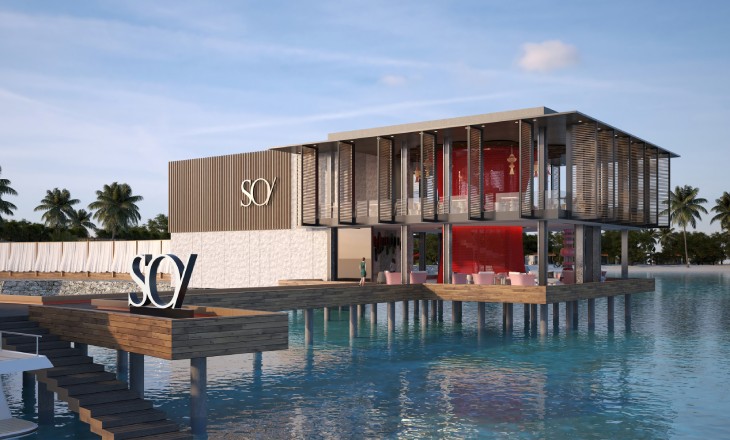 Chadi Farhat, Brand Chief Operating Officer at Ennismore said: "We are delighted to see development kick-off for the audacious SO/ Maldives, a resort which will be the place to see and be seen for travellers that live vibrant lives and are seeking something truly avant-garde on their journeys around the world. We look forward to seeing this high-energy resort come to life and working alongside S Hotels & Resorts and WEWD."
SO/ Maldives will become the third accommodation option at CROSSROADS Maldives, joining SAii Lagoon Maldives and Hard Rock Hotel Maldives, both of which were recently named as the "Best Luxury Beachfront Resorts" in the Maldives at the Luxury Lifestyle Awards 2021.
To learn more about S Hotels & Resorts, please visit www.shotelsresorts.com or follow them on Facebook, Instagram, YouTube or LinkedIn.
ends
S Hotels and Resorts Public Company Limited, the hospitality arm of Singha Estate Public Company Limited, is a fast-growing, Thai-inspired company with an extensive international portfolio and world-class standards. Specialising in the management and investment of high-quality hotels and resorts in desirable destinations across the globe, S Hotels & Resorts has created a collection of its own distinctive lifestyle brands, whilst also partnering with the hospitality industry's leading names. The company aims to set new standards for leisure and lifestyle through diversified business platforms and to enhance value for all its stakeholders based upon a philosophy of sustainable development and delivering benefits to local communities. To learn more, please visit www.shotelsresorts.com or follow us on Facebook, Instagram, Youtube, or LinkedIn.
Wai Eco World Developer Pte. Ltd. (WEWD) is an investment and development group in Myanmar belonging to Wai Family Group of Companies, which has major focus on gem and jewellery business. With the opening of economy last six years ago, WEWD has rapidly diversified both regionally and locally with the real estate development as its one of the major directions. WEWD proudly paired with SHR in the development of an exciting, and prestige resort in the Island 3 of the Emboodhoo Lagoon as its first major oversea investment. The Company is planning to develop a number of hotels and resorts in major cities and tourist destinations of Myanmar. Opening jewellery shops in some of the major cities of the region soon is part of the Company's portfolio. WEWD is also active in local F&B business. Creating new projects which have never been before in Myanmar is one of the Company's missions.
Ennismore
Ennismore is a creative hospitality company rooted in culture and community, with a global collective of entrepreneurial and founder-built brands with purpose at their heart. It curates and manages unique properties and experiences in some of the most exciting destinations around the world. The Ennismore team is made up of some of the brightest doers, thinkers and makers from inside and outside the industry - including an in-house creative studio, a fully integrated F&B concept platform and a digital product & tech innovation lab - who together create brands that inspire discovery. Founded in 2011 by entrepreneur Sharan Pasricha, Ennismore and Accor entered a joint venture in 2021, creating the world's fastest-growing lifestyle hospitality company, bringing together an unrivalled collective of global brands, with Ennismore's know-how in building brands with creative storytelling, design, and authentic experiences, with Accor's wealth of knowledge in delivering scale, network growth and distribution. Under the leadership of Sharan Pasricha, Founder & Co-CEO, and Gaurav Bhushan, Co-CEO, Ennismore comprises 14 hotel & coworking brands and a collection of over 150 culturally relevant and diverse restaurants and nightlife destinations. Ennismore has 87 operating properties globally, with a further 141 hotels in the pipeline. Ennismore is committed to positively impacting the world, with a key focus on creating inclusive communities among its teams and in the places it calls home. Ennismore has been included in Fast Company's World's Most Innovative Companies lists in 2020 and 2021; ranked#29 in FT1000: Europe's Fastest-Growing Companies; and is part of FT Future 100 - the UK's fastest-growing businesses that are shaping the future of their sector.
The Ennismore Brands: 21c Museum Hotel, 25hours, Delano, Gleneagles, Hyde, JO&JOE, Mama Shelter, Mondrian, Morgans Originals, SLS, SO/, The Hoxton, TRIBE and Working From_. For more information: ennismore.com
SO/ Hotels & Resorts is so vivid, expressive and bursting with local energy that even the most adventurous travelers will be fascinated and entertained. A dynamic player on the global hotel scene, the SO/ brand surprises with a playful and distinctly rebellious interpretation of luxury that includes avant-garde design, a passion for fashion, trendy beats, 'Just Say SO' service, and buzzing destination bars and events. Originally created as an exclusive label of Sofitel, the SO/ brand has grown independently and can now be found in socially vibrant destinations such as Berlin, Mauritius, Bangkok, St. Petersburg and Singapore. SO/ hotels are places to be and to be seen, thrilling guests with fashionable and entertaining social experiences that capture the vivacity and vibe of the locale. SO/ Hotels & Resorts is part of Accor, a world leading hospitality group consisting of more than 5,100 properties and 10,000 food and beverage venues throughout 110 countries.
Accor is a world leading hospitality Group consisting of more than 5,100 properties and 10,000 food and beverage venues throughout 110 countries. The Group has one of the industry's most diverse and fully-integrated hospitality ecosystems encompassing luxury and premium brands, midscale and economy offerings, unique Lifestyle concepts, entertainment and nightlife venues, restaurants and bars, branded private residences, shared accommodation properties, concierge services, co-working spaces and more. Accor also boasts an unrivalled portfolio of distinctive brands and approximately 260,000 team members worldwide. Over 68 million members benefit from the company's comprehensive loyalty program ALL - Accor Live Limitless - a daily Lifestyle companion that provides access to a wide variety of rewards, services and experiences. Through its Planet 21 – Acting Here, Accor Solidarity, RiiSE and ALL Heartist Fund initiatives, the group is focused on driving positive action through business ethics, responsible tourism, environmental sustainability, community engagement, diversity and inclusivity. Founded in 1967, Accor SA is headquartered in France and publicly listed on the Euronext Paris Stock Exchange (ISIN code: FR0000120404) and on the OTC Market (Ticker: ACCYY) in the United States. For more information visit group.accor.com or follow Accor on Twitter, Facebook, LinkedIn and Instagram.
For more information and high-resolution images, contact:
Lalita Somboonsuk (Ta)
Corporate Marketing Communications Manager
S Hotels & Resorts | Singha Estate PCL
Tel: +66 (0) 2058-9888 ext. 320
E-mail: lalita.s@shotelsresorts.com 
Website: www.shotelsresorts.com
Jerome Richard 
VP, Delivering Asia Communications
Tel: +66 (0)91 723 1648
E-mail: jr@deliveringasia.com
Website: www.delivering.asia
Harry Greig 
Communications Director  
Accor, Upper Southeast Asia 
E-mail: harry.greig@accor.com
Website: group.accor.com