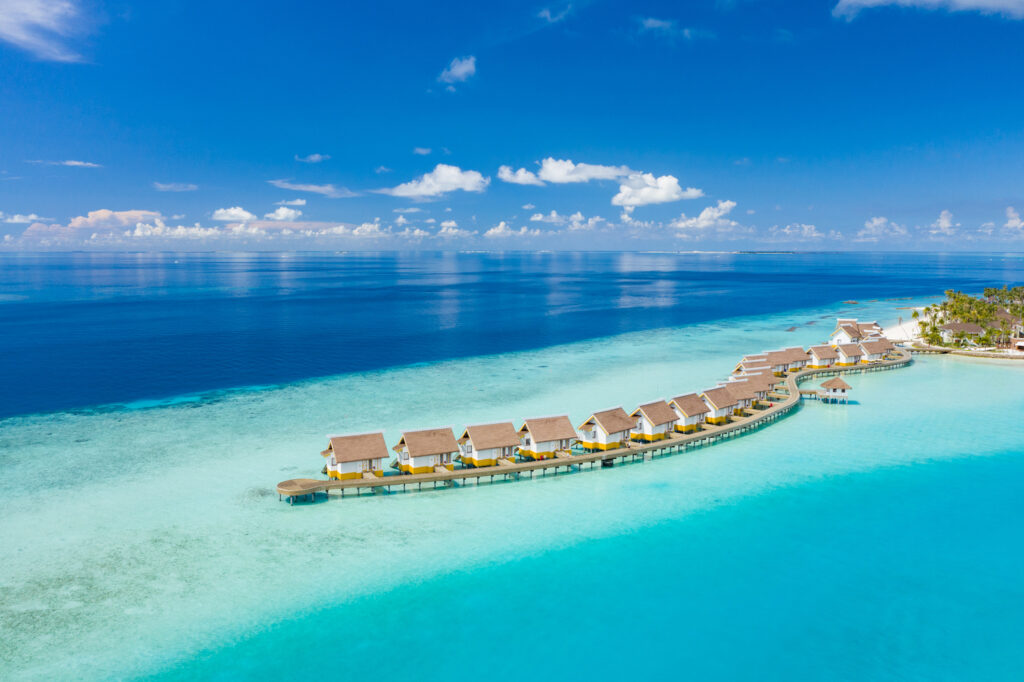 Bangkok, 21 August 2023 : S Hotels and Resorts PCL or 'SHR' - the hospitality arm of Singha Estate PCL, - is set to offer three-year debentures to the general public. Expected in October 2023, the public offering will be available via three leading institutes: Krungthai Bank, Kasikornbank, and Kiatnakin Phatra Securities. The offering presents an opportunity to investors as the hospitality sector grows significantly in the face of the tourism industry's fast recovery. SHR executives express confidence that the debentures will receive good feedback from investors who see the company as strong with business growth potential and operations based on good governance principles.
S Hotels and Resorts Public Company Limited or 'SHR', a fast-growing company that engages in the management of hotels and resorts and investments globally, has submitted the registration statement and draft prospectus to the Securities and Exchange Commission (SEC) to offer 3-years unsubordinated, and unsecured debentures with a debenture holders' representative in the name-registered certificate where the final interest rate will be announced later.
On August 9, 2023, TRIS Rating affirms an issue rating for the debentures at "BBB" which is an "Investment Grade" and at the same time, assigns the company rating at "BBB+" with a "stable" rating outlook. The public offering of SHR debentures is expected to take place in the middle of October this year via three leading financial institutes appointed as underwriters, consisting of Krungthai Bank, Kasikornbank, and Kiatnakin Phatra Securities.
Mr. Dirk Andre L. De Cuyper, Chief Executive Officer of SHR, expressed confidence that investors will warmly welcome SHR debentures. He describes the public offering of SHR debentures as a good investment opportunity for general investors as the hospitality sector has grown remarkably, well thanks to the world's fast-recovering tourism industry. In the first half of 2023, SHR's sale and service revenue rose by 28% year-on-year to THB 4,821 million. Its adjusted EBITDA was THB 1,112 million, an increase of 74% from the same period a year earlier. Such performance underlines the strengths of SHR's operations.
"As international travel has already rebounded, the tourism industry's recovery is clear this year." Said Mr. Dirk. "SHR's business strategy to attract more diverse groups of tourists from across the world also plays a key role behind its historic growth. This year, we have set sight on boosting our revenue beyond THB 10,000 million by achieving an occupancy rate of at least 70% for the portfolio and efficiently managing our costs under the principles of good governance in pursuit of sustainable growth. The issuance and public offering of debentures will further strengthen SHR ."
Mrs. Thitima Rungkwansiriroj, Chief Executive Officer at Singha Estate Public Company Limited or 'S', revealed that she expects the hospitality sector to grow further in the remaining of 2023 thanks to expected travel-demand growth and expanding aviation industry that looks set to launch several new routes in the latter half of the year.
SHR continues to focus on RevPar improvement through demand yielding and continued product enhancements, mainly its rooms products, in line with tourism trends and yielding on ADR during the high seasons. SHR's owned Outrigger Fiji Beach Resort will complete its public area and rooms renovation this November whereby a 20% ADR increase is expected. SAii Phi Phi Island Village and SAii Laguna Phuket are also expected to complete first phase of rooms renovations this November before high seasons starts.
"We continue to invest in high performing assets through product improvement and enhanced service deliveries for our guests" added Dirk De Cuyper.
In 2023, SHR has 38 hotels and resorts with a total of 4,552 rooms in key tourist cities across five countries including the Maldives, Fiji, Mauritius, Thailand, and the United Kingdom. Backed by its expertise in managing and investing in high-quality hotels and resorts, SHR developed its home-grown brand, SAii, in Thailand and the Maldives, that has received widely recognition by its guests towards product and service delivery. Besides SAii brand, SHR partners as well with global leading hotel brands with strong distribution channels in their respective markets.
SHR aims to become a leader in hotel investment and resort management and to set a new standard for leisure and quality living, as it embraces the philosophy of sustainable development and creating true benefits for local communities. SHR's goals include offering of accessible and affordable luxury resort experiences, fostering partnerships, and improving its corporate governance based on its vision. Strong support comes from its corporate culture, which contributes to its service strengths. SHR has always maximized value for employees based on employee engagement and satisfaction while also working closely with local communities.
The financial institutes that will oversee SHR debentures distribution commented that the public offering of SHR debentures presents a good opportunity for investors. The underwriters of the debentures recommend the investors to grab this opportunity, especially those who missed the subscription of Singha Estate debentures, that were received so well and the subscription demand exceeded the supply.
SHR is in the process of filing a registration statement and draft prospectus with the SEC Office, which haven't been effective yet. For general investors interested in subscribing for SHR debentures, more details can be obtained from the draft prospectus at www.sec.or.th or from the financial institutions appointed as underwriters as follow:
Krungthai Bank Public Company Limited: Tel. 02-111-1111. or subscription through Krungthai NEXT for individual general investors
Kasikornbank Public Company Limited*: Tel. 02-888-8888 ext. 819. or via K-My Invest website (www.kasikornbank.com/kmyinvest) for individual general investors
Kiatnakin Phatra SecuritiesPublic Company Limited**: Tel. 02-165-5555. or subscription through application Dime! for individual general investors
* including Kasikorn Securities Public Company Limited as sales agency of Kasikornbank Public Company Limited.
** including Kiatnakin Phatra Bank Public Company Limited as sales agency of Kiatnakin Phatra Securities Public Company Limited.
****************************************
The media can contact for more information at :
I2C Communications Company Limited (on behalf of Singha Estate Public Company Limited)
Maneenin Wanitpaijit (Miina) PR Manager Tel. 090 945 4050 Email : miina.wanit@gmail.com